Brahmasutra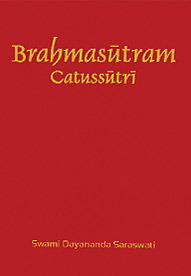 Brahmasūtram Catussūtrī
ISBN
:
978-93-80049-87-8

Author
:
Swami Dayananda Saraswati
Pages
:
479 Pages

Dimensions
:
160mm X 240mm
Language
:
English
Price
:
Rs. 500
Vedanta says that there is nothing bigger than the self, Brahman, and it also says that there is nothing other than the self. I have to see it; there is nothing to contend. Therefore mokṣa is only the recognition of the self, ātmā, as Brahman. You have to see yourself as the whole, nothing else is acceptable. This is the truth. There is no other mokṣa, there is no alternative available. Different paths to mokṣa do not exist.

You can buy the books by making payment by Demand Draft,
Cheque or Money Order.
Click here to view more details.