Meditation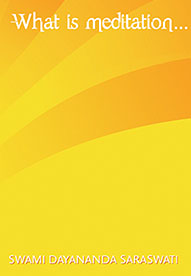 What Is Meditation
ISBN
:
9789380049199
Author
:
Swami Dayananda Saraswati
Pages
:
44 Pages
Dimensions
:
140mm x 210mm
Language
:
English
Price
:
Rs. 100

- OUT OF STOCK / UNDER REPRINT -
"Meditation highlights one's inseparable connection with the total, Īśvara. Through various steps, one is brought to be one's own self, recognising all the way the presence of the whole at every level of oneself."

You can buy the books by making payment by Demand Draft,
Cheque or Money Order.
Click here to view more details.


More Books on this Subject