Public Talks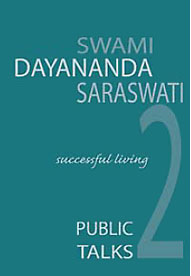 Successful Living
ISBN
:
978-81-903636-2-4
Author
:
Swami Dayananda Saraswati
Pages
:
112 Pages
Dimensions
:
140mm x 210mm
Language
:
English
Price
:
Rs. 200
"Success and failure are relative terms."Swamiji says, " When you practice what is right even though you do not like doing it, and avoid what is wrong, even though you want to do it, you slowly change. Later, you find yourself in a position where what is to be done is what you like to do and what is not to be done is what you do not like to do. That is, indeed, a successful life."

You can buy the books by making payment by Demand Draft,
Cheque or Money Order.
Click here to view more details.


More Books on this Subject