Others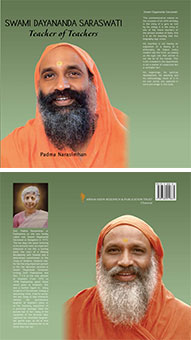 Swami Dayananda Saraswati
Teacher of Teachers
(by Smt. Padma Narasimhan)
- 60th Birthday Book -
ISBN
:
978-93-80049-88-5
Author
:
Padma Narasimhan
Pages
:
248
Dimensions
:
212mm X 275mm
Cover
:
Hardbound with laminated jacket
Language
:
English
Price
:
Rs 2,000
This commemorative volume on the occasion of his 60th birthday is the story of a guru
as told by his sishya. It is the story of one of the finest teachers of the ancient wisdom of India. And it is on his teaching that this biography lays stress.

His teaching is not merely an exposition of a theory or a philosophy. He makes every student see the truth, as clearly as the eyes see, that sorrow is not the lot of a human. This truth revealed in the Upanishads is not a matter of conjecture but a verifiable fact.

His beginnings, his spiritual developments, his teaching and his methodology, much of it in his own words, are captured in word and image in this book.

You can buy the books by making payment by Demand Draft,
Cheque or Money Order.
Click here to view more details.