Public Talks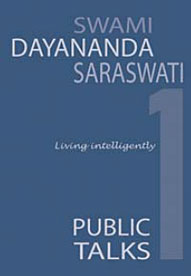 Living Intelligently
ISBN
:
978-81-903636-1-7
Author
:
Swami Dayananda Saraswati
Pages
:
104 Pages
Dimensions
:
140mm x 210mm
Language
:
English
Price
:
Rs. 200


"While living I need to relate to the world; there is no choice. There is also no choice in exercising choice for a human being. I need to choose. Then, is there a choice in my ' living intelligently? ' There is no choice. My being aware of all that is here is Īśvara makes me live an intelligent, pragmatic life, because I cannot estrange myself from Īśvara. I have this attitude of being connected to Isvara all through. That is intelligent living. I need not bring Īśvara into my life; I find that Īśvara is already there in my life. I need to be aware of his presence."

You can buy the books by making payment by Demand Draft,
Cheque or Money Order.
Click here to view more details.


More Books on this Subject