Moments with Oneself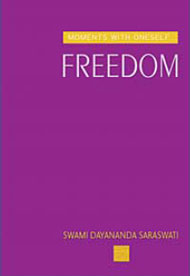 Freedom
ISBN
:
978-81-904203-9-6
Author
:
Swami Dayananda Saraswati
Pages
:
44 Pages
Dimensions
:
140mm x 210mm
Language
:
English
Price
:
Rs. 100
"Everyone seeks freedom, but not everyone knows that he or she is seeking. Freedom is, recognising the fact that you are already 'free' from any form of seeking. The Self, being full and complete, is unisolated from anything. This teaching is Vedanta."

You can buy the books by making payment by Demand Draft,
Cheque or Money Order.
Click here to view more details.