Essays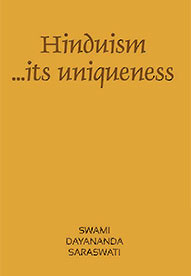 Hinduism ... its uniqueness
ISBN
:
978-93-80049-80-9
Author
:
Swami Dayananda Saraswati
Pages
:
40 Pages
Dimensions
:
100mm x 200mm
Language
:
English
Price
:
Rs. 20
"Here is a small book presenting Hinduism as a view and way of life.
It is a privilege to be a Hindu - one becomes unique because the religion is unique ...

Swami Dayananda Saraswati

You can buy the books by making payment by Demand Draft,
Cheque or Money Order.
Click here to view more details.


More Books on this Subject