Moments with Oneself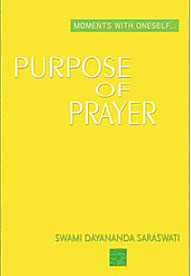 Purpose of Prayer
ISBN
:
978-81-904203-3-4
Author
:
Swami Dayananda Saraswati
Pages
:
40 Pages
Dimensions
:
140mm x 210mm
Language
:
English
Price
:
Rs. 100
"One has to be at the right place at the right time to achieve anything significant. One cannot will it to happen, but one can always pray to make it happen. Thus, free will finds its total expression in prayer. That one can pray is itself a blessing and how one prays makes prayer meaningful to one."

You can buy the books by making payment by Demand Draft,
Cheque or Money Order.
Click here to view more details.