Moments with Oneself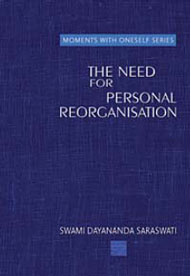 The Need for Personal
Reorganisation
ISBN
:
978-81-904203-2-7
Author
:
Swami Dayananda Saraswati
Pages
:
60 Pages
Dimensions
:
140mm x 210mm
Language
:
English
Price
:
Rs. 100
"If non-fulfillment of desires does not bother you, you are on top of them. If non-fulfillment bothers you, then the desires have got you! They are no longer a privilege. They become pressure generators. Bringing the required change to make desiring a privilege is personal reorganisation."

You can buy the books by making payment by Demand Draft,
Cheque or Money Order.
Click here to view more details.