Public Talks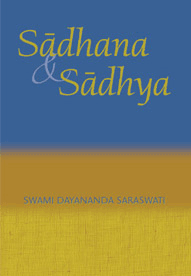 Sadhana & Sadhya
ISBN
:
978-93-80049-76-2
Author
:
Swami Dayananda Saraswati
Pages
:
110 Pages / Softbound
Dimensions
:
140mm X 210mm
Language
:
English
Price
:
Rs. 200
"The end in view, sādhyā decides the means, sādhanā. Self-dissatisfied, conscious being that every human being is has only one end and that is satisfaction, centred on oneself.

In other words, one has to discover satisfaction. The means for this discovery is the teaching of Vedanta."

Swami Dayananda Saraswati

You can buy the books by making payment by Demand Draft,
Cheque or Money Order.
Click here to view more details.


More Books on this Subject