Public Talks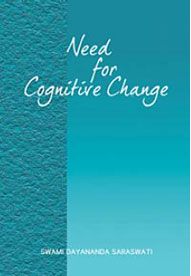 Need for Cognitive Change
ISBN
:
978-93-80049-01-4
Author
:
Swami Dayananda Saraswati
Pages
:
92 Pages
Dimensions
:
140mm x 210mm
Language
:
English
Price
:
Rs. 200
"I do not believe that anyone can be happy in today's world without Vedanta. It is not possible because our society is born of competition, nurtured in competition. The competition starts from the cradle! Naturally, our lot is very complex. There is a need for a cognitive change. We need Vedanta to be sane and we have to solve the problem fundamentally. That is the only way; there is no other way. Humanity has driven itself into a corner from where it has no other solution except to know ' I am the whole. ' It is what Vedanta is."

You can buy the books by making payment by Demand Draft,
Cheque or Money Order.
Click here to view more details.


More Books on this Subject