Others - Salutations to Rudra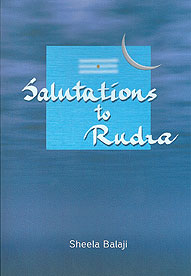 Salutations to Rudra
ISBN
:
978-93-80049-82-3
Author
:
Sheela Balaji
Pages
:
99 Pages
Dimensions
:
140mm X 180mm
Cover
Softbound
Language
:
English
Price
:
Rs. 120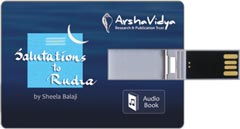 Special Offer:

A Free Audio book of Sri Rudram verses along with a translation that captures the spirit of Sri Rudram.

The verses have been melodiously rendered by Brni. Nandana Caitanya, a student of Pujya Swami Dayananda Saraswati.
Get it on USB Card Drive (85min / 197 Mb)
or you can download the Audio Book here
"When one wants to capture the glories of the Lord, one finds oneself crossing the norms that govern objective writing. One resorts to exclamations, hyperboles and high sounding adjectives amounting to seeming exaggeration. But all of them are meant to capture the Lord, the whole, of infinite hues. That is what the Vedic Hymn Sri Rudram presents. A literal translation can never capture all that the hymn inspires. The translator has to let go the terseness of prose and take to free style, giving expression to the grasp of every line. I see this in this English rendering by Smt. Sheela Balaji. She has grasped the whole and luckily she has the facility of expression.
I congratulate her to this inspiring contribution."

Swami Dayananda Saraswati


You can buy the books by making payment by Demand Draft,
Cheque or Money Order.
Click here to view more details.