Others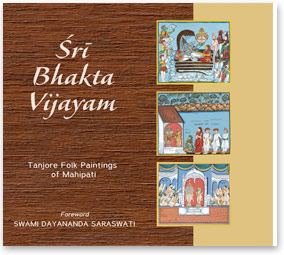 Sri Bhakta Vijayam
ISBN
:
978-93-80049-81-6
Authors
Krishnan Ramaswamy
Neil Greentree
Foreword
:
Swami Dayananda Saraswati
Pages
:
154 Pages / Hardbound with
jacket with spot-laminated pictures
Dimension
:
210mm X 235mm
Language
:
English
Price
:
Rs. 900
"Stories from Mahapati's Sri Bhaktavijayam are that of men and women who transformed themselves through living a prayerful life and by doing what was called for in situations they faced. The lives of the bhaktas are informed by the Vedic vision that the world we confront is a manifestation of Ishvara and this includes our body-mind-sense complex. The world around us, our abilities, our resources are all given. The more awareness one has of Ishvara as the giver and the given, the more prayerful one is."

Swami Dayananda Saraswati

You can buy the books by making payment by Demand Draft,
Cheque or Money Order.
Click here to view more details.