Bhagavad Gita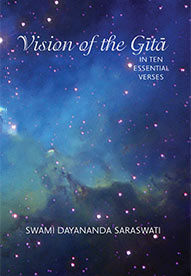 Vision of the Gītā


IN TEN ESSENTIAL VERSES
ISBN
:
978-93-80049-78-6
Author
:
Swami Dayananda Saraswati
Pages
:
225 Pages
Dimensions
:
210mm X 138mm
Cover
:
Softbound
Language
:
English
Price
:
Rs. 200
The Gītā is upaniṣad sāram, the essence of the Upaniṣads.
This book is the essence of the Gītā.
In ten verses, the context and the content of various topics like karma, karma-yoga, sannyāsa and mokṣa is unfolded.

Swami Dayananda Saraswati

You can buy the books by making payment by Demand Draft,
Cheque or Money Order.
Click here to view more details.