Meditation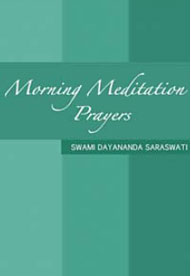 Morning Meditation Prayers
ISBN
:
978-93-80049-04-5
Author
:
Swami Dayananda Saraswati
Pages
:
62 Pages
Dimensions
:
140mm x 210mm
Language
:
English
Price
:
Rs. 100
"The classical definition of meditation is saguna-brahma-visaya-mānasa-vyāpārah, action centred on Īśvara. Following this definition, this book provides the reader a series of meditations. Even a slow attentive reading would be meditation."

You can buy the books by making payment by Demand Draft,
Cheque or Money Order.
Click here to view more details.


More Books on this Subject