Moments with Oneself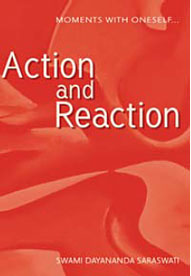 Action and Reaction
ISBN
:
978-81-904203-4-1
Author
:
Swami Dayananda Saraswati
Pages
:
48 Pages
Dimensions
:
140mm x 210mm
Language
:
English
Price
:
Rs. 100
"When one reacts one is not able to measure up to a situation in spite of the powers at one's command. Reactions crystallise themselves to create a personality out of a person. Awareness of oneself in every situation gives one enough inner space to play one's roles following the relevant scripts. Reactions, old and piled up, get neutralised. One is no more a personality but a person totally acceptable to oneself and others."

You can buy the books by making payment by Demand Draft,
Cheque or Money Order.
Click here to view more details.