Essays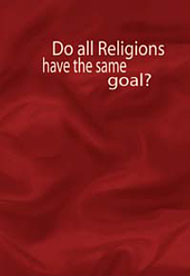 Do all Religions
have the same goal?
ISBN
:
978-81-906059-5-3
Author
:
Swami Dayananda Saraswati
Pages
:
38 Pages
Dimensions
:
140mm x 210mm
Language
:
English
Price
:
Rs. 20
"Do all religions have the same goal? I wish they had! Then, the differences among religions would only be cultural. By its own commitment to a theology, each faith-based religion has its own belief of an end which differs from that of every other faith.
The vision of Vedanta being what it is, the end is in the form of knowledge, not belief."

You can buy the books by making payment by Demand Draft,
Cheque or Money Order.
Click here to view more details.


More Books on this Subject