Moments with Oneself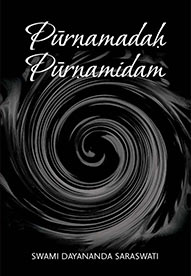 Pūrṇamadaḥ Pūrṇamidam
ISBN
:
978-93-80049-77-9
Author
:
Swami Dayananda Saraswati
Pages
:
32 Pages
Dimensions
:
140mm x 210mm
Language
:
English
Price
:
Rs. 100
"This one verse has everything. Nothing is left out. Subject, object, cause, effect, experience and fullness; nothing is omitted. It is not an ordinary verse. It contains the vision of the Upaniṣads, the truth of oneself."

Swami Dayananda Saraswati

You can buy the books by making payment by Demand Draft,
Cheque or Money Order.
Click here to view more details.