Moments with Oneself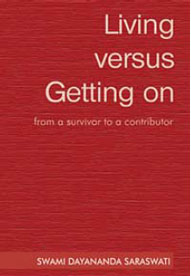 Living versus Getting on
ISBN
:
978-81-903636-6-2
Author
:
Swami Dayananda Saraswati
Pages
:
48 Pages
Dimensions
:
140mm x 210mm
Language
:
English
Price
:
Rs. 100
"Something happens to a person when he or she is able to do something for someone. It is not pride. This wholeness finds expression when one is able to help others regardless of whether the recipient is known to him or her."

You can buy the books by making payment by Demand Draft,
Cheque or Money Order.
Click here to view more details.