Stotra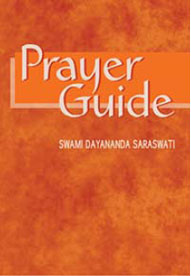 Prayer Guide
ISBN
:
978-81-906059-1-5
Author
:
Swami Dayananda Saraswati
Pages
:
262 Pages
Dimensions
:
140mm x 210mm
Language
:
English
Price
:
Rs. 200

- OUT OF STOCK / UNDER REPRINT -
"A Prayer. is an act, and prayerfulness is an attitude ... Mature, objective response to both pleasant and unpleasant situations comes from prayerful attitude. The act of prayer serves to make one prayerful. Being prayerful, one's response to varying situations would be effective without one being in anyway affected. This attitude also helps one to accept one's past, as well as the present situation. The more prayerful one is, the freer one becomes from guilt, hurt, and from self-loath. In the wake of graceful acceptance, there is serenity."

You can buy the books by making payment by Demand Draft,
Cheque or Money Order.
Click here to view more details.


More Books from 'Stotra' Category