Moments with Oneself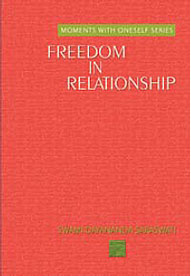 Freedom in Relationship
ISBN
:
978-81-904203-7-2
Author
:
Swami Dayananda Saraswati
Pages
:
56 Pages
Dimensions
:
140mm x 210mm
Language
:
English
Price
:
Rs. 100
"A relationship is built only by relating and it involves understanding. When you understand your own limitations, your mind and everything about it is very clear to you, then you accept the other person's virtues and are kind to his or her limitations. You then have appreciation, love, compassion, understanding and freedom in relationship."

You can buy the books by making payment by Demand Draft,
Cheque or Money Order.
Click here to view more details.