Moments with Oneself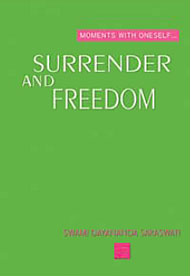 Surrender and Freedom
ISBN
:
978-81-904203-5-8
Author
:
Swami Dayananda Saraswati
Pages
:
58 Pages
Dimensions
:
140mm x 210mm
Language
:
English
Price
:
Rs. 100
"You can surrender what you own, and not what you do not. There is no other surrender except your projections for, you have won hardly anything else to surrender. When you recognise all that is here is the Lord including ' you ' there is surrender. In that surrender, there is freedom. Surrender is freedom."

You can buy the books by making payment by Demand Draft,
Cheque or Money Order.
Click here to view more details.