Public Talks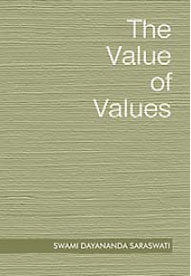 The Value of Values
ISBN
:
978-81-903636-7-9
Author
:
Swami Dayananda Saraswati
Pages
:
158 Pages
Dimensions
:
140mm x 210mm
Language
:
English
Price
:
Rs. 200
" The expression of my life is just the expression of my well-assimilated value structure. What I do is but an expression of what is valuable to me. For comforts to be enjoyed I must be there to enjoy them. When I am split with guilt, I am rarely anywhere but with my anxieties, regrets and guilt. When I clearly see this fact, I will see the value of applying universal ethical standards to myself. Therefore, a value, universal or situational, is a value for me only when I see the value of the value as valuable to me. "

You can buy the books by making payment by Demand Draft,
Cheque or Money Order.
Click here to view more details.


More Books on this Subject