Public Talks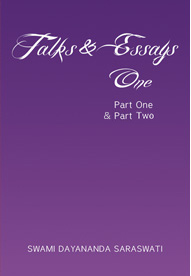 Talks & Essays - Vol 1 (Part
1 & 2
)
ISBN
:
978-93-80049-89-2
(Vol 1 with Part 1 & 2)
Author
:
Swami Dayananda Saraswati
Pages
:
1000 Pages / Hardbound
Dimensions
:
140mm x 210mm
Language
:
English
Price
:
Rs. 1000
I welcome this book. The list of topics collected for this volume is quite comprehensive. I like the arrangement of bringing different topics under one major topic. This is very useful in comprehending the whole vision of the major topic through the windows of understanding of the various topics under subtitles. I congratulate Swamini Srividyananda for the meticulous care she has shown in compiling from various sources and presenting them in the form of a bouquet of words.

Swami Dayananda Saraswati

You can buy the books by making payment by Demand Draft,
Cheque or Money Order.
Click here to view more details.


More Books on this Subject