Prakaraṇa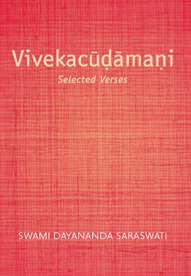 Vivekachudamani
ISBN
:
978-93-80049-93-9
Author
:
Swami Dayananda Saraswati
Pages
:
506 Pages
Dimensions
:
140mm x 210mm
Language
:
English
Price
:
Rs. 500
Cover
:
Hardbound
"Vivekacudamani is addressed to those who have a desire for the ultimate purushartha called moksha; what is desired as an end to be accomplished by a person, purusha, is purushartha. Among the many ends that a person goes after, freedom from insecurity and inadequacy is fundamental. This freedom is called moksha."

Swami Dayananda Saraswati

You can buy the books by making payment by Demand Draft,
Cheque or Money Order.
Click here to view more details.


More Books in this Category