Prakaraṇa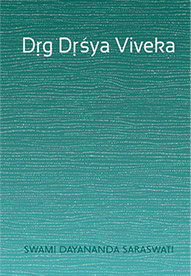 Dṛg Dṛśya Viveka
ISBN
:
978-93-80049-93-3
Author
:
Swami Dayananda Saraswati
Pages
:
438 Pages
Dimensions
:
140mm x 210mm
Language
:
English
Price
:
Rs. 400
Cover
:
Hardbound
You are looking for what pleases you, that priyam, all the time. In every object there is asti, bhāti, priyam. Not knowing 'I am ānanda', you look at this world through your experience of the world in terms of happiness. To be pleased with oneself, one has to learn how not to project upon the other. That is intelligent living. Dṛg-dṛśya-viveka unfolds the vision to help one discover and then abide in the pleased self.

Swami Dayananda Saraswati

You can buy the books by making payment by Demand Draft,
Cheque or Money Order.
Click here to view more details.


More Books in this Category