Moments with Oneself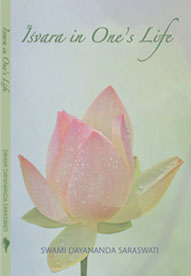 Isvara in One's Life
ISBN
:
9789380049731
Author
:
Swami Dayananda Saraswati
Pages
:
91 Pages
Dimensions
:
140mm x 210mm
Cover
Softbound
Language
:
English
Price
:
Rs. 100
"The various forms of worship we have, come from the vision of God that we have. Every form that is here is his form, every phenomenon that is here is an expression of the Lord. Being manifest in the form of various orders pervading the jagat, the Lord is infallible. In the awareness of this Isvara, one sees the absence of alienation at any time. And this is how one can bring Isvara in one's life."

You can buy the books by making payment by Demand Draft,
Cheque or Money Order.
Click here to view more details.