Upaniṣad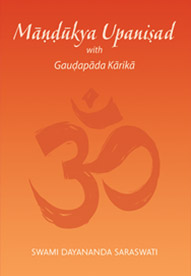 Māṇḍūkya Kārika (4 Volumes)
ISBN
:
Vol 1 to 4: 978-93-80049-96-0
Author
:
Swami Dayananda Saraswati
Pages
:
Vol 1: 486 Pages / Vol 2: 306 Pages
Vol 3: 360 Pages / Vol 4: 482 Pages
Vol 1-4: 1634 pages
Cover
Hardbound with Jacket
Dimensions
:
160mm x 210mm,
Language
:
English
Price
:
Rs. 1400 (set of 4 volumes)

+ Rs 150 for Special Carry Bag for
the 4 Volumes of Mandukaya Karika set
"That there is ātma ajñānam itself is not known. Everyone has an opinion about self and merrily goes about the same. But as an adult there is a gap in behaviour, there is confusion and psychology comes into the picture to validate the behaviour and still one is not completely at home. But there are moments one is completely at home. That is the norm. That shows that there is another version of self. Māṇḍūkya Upaniṣad unfolds this self through an analysis of oṁ-kāra corresponding to the three states of experience that everyone goes through daily."

Swami Dayananda Saraswati

You can buy the books by making payment by Demand Draft,
Cheque or Money Order.
Click here to view more details.


More Books on this Subject